Our governance
How we work
The CIC works alongside Whitecross School, but delivers specifically against the following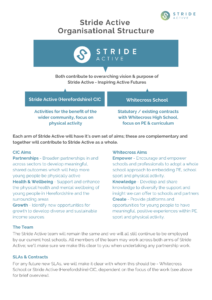 three aims:
Partnerships – Broaden partnerships in and across sectors to develop meaningful, shared outcomes which will help more young people be physically active
Health & Wellbeing – Support and enhance the physical health and mental wellbeing of young people in Herefordshire and the surrounding areas
Growth – Identify new opportunities for growth to develop diverse and sustainable income sources.
The document to the right outlines how both organisations work together, sharing the same vision to inspire active futures.
For any questions relating to our governance, please contact Beky, using the details below.