Our governance
Stride Active has two arms, both of which are not for profit.
We have specialised in supporting PE and school sport for over 15 years across Herefordshire. Ensuring young people have access to high quality PE and school sport will always remain a priority, however we believe there is much more we can do outside of curriculum support. Being a CIC means we can increase our focus on physical activity, health and wellbeing, whilst serving the needs of our wider community and non-statutory school support.
We therefore exist as a School Sport Partnership, in association with Whitecross Hereford and Kington Primary School and also as a Community Interest Company. Both operate as not for profit and all funds are reinvested back into the community we serve. Our work and aims are divided across two clear arms. We've produced a simple document to explain our structure.
The CIC works alongside Whitecross School, but delivers specifically against the following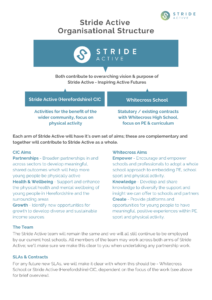 three aims:
Partnerships – Broaden partnerships in and across sectors to develop meaningful, shared outcomes which will help more young people be physically active
Health & Wellbeing – Support and enhance the physical health and mental wellbeing of young people in Herefordshire and the surrounding areas
Growth – Identify new opportunities for growth to develop diverse and sustainable income sources.
The document to the right outlines how both organisations work together, sharing the same vision to inspire active futures.
For any questions relating to our governance, please contact Beky, using the details below.