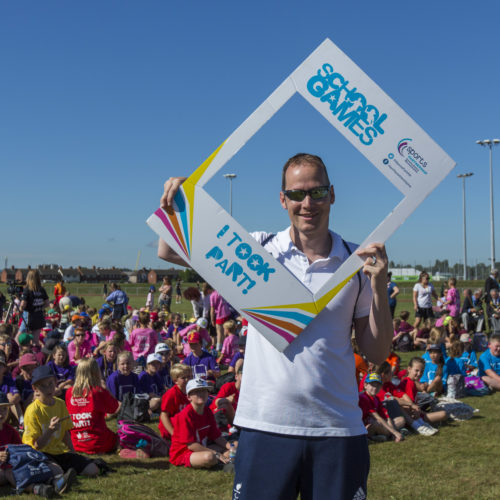 About Us
At Stride Active we want to inspire active futures. Put simply, we want to ensure that all young people have the opportunity to be physically active and most importantly, enjoy it! We are the only organisation in Herefordshire dedicated to young people's physical activity. As experts in in PE, school sport and physical activity, we advocate the benefits of this to support all young people, be it physically, mentally or socially. It is our belief that if we can create the right experiences for children, they will remain active throughout their adult lives.
Stride Active is a not-for-profit organisation; our work is divided through two organisational 'arms' – Whitecross School and Stride Active Community Interest Company (CIC). We are hosted by Whitecross High School, but operate independently to support schools and organisations across Herefordshire and beyond. We have over 14 years' experience in sharing our PE expertise with schools. We do this through a range of CPD and training opportunities. Alongside this, we also specialise in physical activity, health and wellbeing through the CIC. All of our work aims to address rising obesity and inactivity rates in children.
At Green Spider, we have worked with Stride Active on a variety of projects now and it has always been a pleasure. The ideas and initiatives that they come up with are second to none and they are always there throughout to see it all through.

Ebony Ball, Centre Manager
Our Objectives:
Health and wellbeing: We will support and enhance the physical health and mental wellbeing of young people in Herefordshire and the surrounding areas
Partnerships: We will Broaden partnerships in and across sectors to develop meaningful, shared outcomes and create an environment where young people and future generations will embrace and embed the values of being more physically active
Growth: We will identify new opportunities for growth to develop sustainable income sources.
Empower: Encourage and empower schools and professionals to adopt a whole school approach to embedding PE, school sport and physical activity.
Knowledge: Develop and share knowledge to diversify the support and insight we can offer to schools and partners
Create: Provide platforms and opportunities for young people to have meaningful, positive experiences within PE, sport and physical activity.